Have you seen construction work going on in your street and are wondering what it's all about?  You can call your retailer to find out whether UFB is available, or your local fibre company will invite you to have a line put in when they go past your house, and you can take up a retail service when you're ready.   The service line or drop runs from your property boundary into the house. It connects to a box inside called an optical network termination (ONT) point. Contractors working for Chorus or your Local Fibre Company will install it. The ONT can be put in any area of the house, near a power point and ideally where the computer or modem is going to be placed.  The installation is free at wholesale, although some retailers might choose to charge for it.
How deployment in home works
Other support info if necessary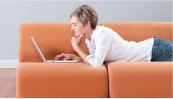 Urban and suburban residential areas will get access to Ultra-Fast Broadband through a staged roll-out to 2019, with new developments in greenfields areas a high priority. Optic fibre-based services are capable of delivering the rapid speeds which many new applications increasingly require. These services allow transmission over longer distances and at higher bandwidths (data speeds) than other forms of communications.
Read More