Manaia View School was the first in New Zealand to receive UFB. Chairman of the Board of Trustees, Bevan Holt, says the ultra-fast connectivity has opened the door to a world of opportunity for Maori children and he's noticed  they're far more engaged in their learning than via traditional methods. He says ultrafast internet access has taken away childrens' frustration and made them feel they can achieve anything they want.   School Deputy Principal, Marilyn Small says since UFB was installed, Manaia View School has seen raised literacy and numeracy standards, reduced truancy and saved money.
Manaia View School Case Study
Other support info if necessary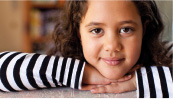 Access to Ultra-Fast Broadband has the potential to transform local schools and marae. Crown Fibre Holdings and its partners have agreed to work together and with Ngā Pū Waea, the Maori Broadband Working Group, in order to facilitate Māori development opportunities associated with the UFB initiative.
Read More