Case Study in Health
Waikato and Tauranga hospitals use a fibre link to send radiology images between sites, saving time and money.  Waikato DHB has collaborated with Bay of Plenty DHB to fund a Picture Archiving Communications System, where all radiology images are stored. Using the fibre links each DHB can view the others' patient images stored in a central library.  These include MRI scans, CT scans and x-rays. It's meant radiologists and clinicians from across the region can now collaborate in providing patient care.
Other support info if necessary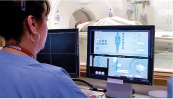 The health sector is a priority for rollout of Ultra Fast Broadband, with a policy goal for health facilities to have access by 2015. Ultra-Fast Broadband will underpin implementation of the National Health IT plan and enable fulfillment of its vision, for example by improving access for primary providers, supporting common e-prescribing processes and a uniform approach to information sharing in general, as well as enabling remote access and cloud solutions for effective patient administration.
Read More