Councils in the Bay of Plenty use fibre to manage local authority shared services, enjoying reduced costs through scale while retaining local autonomy. Bay of Plenty Local Authority Shared Services or BOPLASS was established as a Council Controlled organisation in 2007 to investigate, develop and deliver back-office services and communications for the councils in the region. It operates over a regional 1 Gigabit fibre network linking councils in Tauranga, Rotorua, Whakatane and Taupo. Benefits include opportunities for data storage management, server consolidation (for instance libraries share a single index of book titles across the region) and application sharing (ie shared calendars and video-conferencing) which improve collaboration.
Councils & Government
Other support info if necessary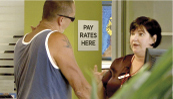 Local and central Government agencies stand to benefit from Ultra-Fast Broadband and will be able to access the network progressively as the rollout takes place nationwide. Ultra-Fast broadband will offer faster, more affordable connectivity between council sites as well as improved communication with ratepayers through highly interactive, content rich citizen's portals.
Read More