The central North Island fibre consortium, Ultrafast Broadband Limited, has announced the appointment of Maxine Elliott to the role of Chief Executive.
Ms Elliott joins the company from Vector Limited, where her most recent role was as the General Manager responsible for Vector Communications. She has also held a number of other roles at Vector. At Ultrafast Broadband Limited she will oversee the rollout of fibre to Hamilton (including Cambridge and Te Awamutu), Tauranga, Tokoroa, New Plymouth, Hawera and Wanganui. Ultra-fast broadband will be delivered to the door of some 163,000 premises and reach 12% of New Zealand's population.
"We are pleased to have a Chief Executive with such a wealth of experience in deploying, operating and marketing fibre networks," said Rodger Fisher, Chair of Ultrafast Broadband Limited.
"Maxine's understanding of both the fibre and the electricity networks businesses, her strong general management background and customer focus, all combine to make her an excellent CEO," Mr Fisher said.
She has a Bachelor of Commerce from the University of Canterbury. Ms Elliott will take up the position at Ultrafast Broadband Limited in September.
-ENDS-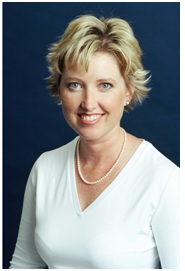 Ms Maxine Elliott
Media contacts:
WEL Networks:
Dr Julian Elder
Chief Executive
027 692 4114
Background on Ultrafast Broadband Ltd:
A contract was signed in December 2010 by UltraFast Fibre Limited, a wholly owned subsidiary of WEL Networks, and Crown Fibre Holdings (CFH) to form Ultrafast Broadband Ltd to roll out UFB for the central North Island, including Hamilton (including Cambridge and Te Awamutu), Tauranga, Tokoroa, New Plymouth, Hawera and Wanganui.
Background on WEL Networks and UltraFast Fibre Limited:
WEL is the fifth largest electricity distribution company (by number of connections) in New Zealand. Its core business is the provision of electricity distribution services to the Waikato. The business has nearly 200 staff, a turnover of $96 million and a total asset value of $426 million. WEL Networks has one shareholder, the WEL Energy Trust, a community trust that represents the interests of the local community. UltraFast Fibre Limited is a special purpose vehicle which was created by WEL Networks to partner with CFH in the creation of a Local Fibre Company.
What is a Local Fibre Company?
An LFC is a joint venture between Crown Fibre Holdings on behalf of the Government and a private company to deploy, own and operate a fibre-to-the-premise network in one or more parts of New Zealand under the UFB initiative. It sells access to point to point dark fibre or Layer 1 Services, and lit fibre (containing electronics), known as Layer 2 Services.